The Global PE Beijing Forum, as the biggest and most important platform for PE Industry in both China and Global vision has entered its 7th year. This year's Forum will take place at The Shangri-La Hotel, Beijing, December 5th, 2015.
Last year, more than 600 delegates convened for the 5th Beijing Global Private Equity Forum featuring leading industry players from China and abroad, as well as some of the senior-most officials from Chinese regulatory authorities responsible for the development of China's PE industry.
Building on last year's success, this year's Forum will focus on the 'New Normal' of China's economy, the innovation environment around the whole country and the latest trends of China's PE/VC industry We aim to once again promote a meaningful and frank dialogue among the leading foreign and Chinese fund managers, government officers, and institutional investors on the development of China's private equity industry.
AGENDA
December 10th (2016)
09:00-09:05

Opening

09:05-09:45

Welcoming Speeches by:
Senior Official from The People's Government of Beijing Municipality
Shao Bingren, Chairman of China Association of Private Equity
Senior Official from The People's Government of Haidian District,
Beijing Municipal

09:45-10:25
Keynote Speeches by:
Wang Zhongmin, Vice Chairman of NCSSF
Fan Hengshan, Vice Secretary-General of NDRC
10:25-10:30

Rotating Ceremony of BPEA 8th Interim Chairman

10:30-10:45

Committees Launching Ceremony

10:45-11:00
Tea Break
11:00-12:00

Keynote Speeches by
Zhu Min, Former Deputy Managing Director of the International Monetary Fund
Qi Bin, Executive Vice President of CIC
Robert W. van Zwieten, President & Chief Executive Officer, EMPEA


12:00-12:20

Keynote Speech by BPEA 8th Interim Chairman

12:20-12:30
Release the '2016 The Guiding Principle for China PE and VC Industry'
12:55-14:00
Lunch
14:00-15:10

Panel 1:VC and Innovation Technology
Moderator by :
Feng Deng, Founding Managing Director of Northern Light Venture Capital (NLVC)
Panelists:
Robin Song, Partner of Lunar Capital Management (LCM)
You Wenli, Managing Director of Shougang Fund
Veronica Wu, Co-President, International Affairs General Manager
BOCGI Zheshang Investment Fund Management
He Xiaofeng, Professor and Doctoral Advisor of the Financial Dept. Of the Economics School at Peking University

Panel 2:M&A Investment
Moderator by:
Li Hao, Managing Director of Jiangtongyoulin
Panelists:
Bai Guohong, Chairman and Party Secretary of Huarong Yufu Capital
Dong Guixin, Partner of Beijing Shang Finance Corporation
Zhi Peng, Vice President, Tsinghua Holdings Asset Management Group
Li Zongjun, Chairman of CMS Zhiyuan Capital Co., Ltd
Beijing Capital Group Company Limited
Hony Capital
15:10-16:20
Panel 3:FoF Investment
Moderator by:
Wang Xiaobo, General Manager of E-Town Capital
Panelists:
Meng Zhaohui, General Manager of Beijing Municipal Engineering Consulting Investment Fund Management Co., Ltd.
Zhu Yang, Chairman of TSF Capital
CGP Investment
Oriza Holdings
Beijing Private Equity Development Management Co.Ltd,.
Zhongguancun Development Group
Panel 4:Exit Panel
Moderator by:
Xiong Yan, President of Wealth Capital
Panelists:
National Equities Exchange and Quotation
Zhong Lian, Vice President of Shenzhen Capital Group Co,.Ltd
Beijing Equity Trading Center
Conrad Tsang, Chairman of PRC Committee and Real Assets Committee of the Hong Kong Venture Capital and Private Equity Association; Founder and Chairman of Strategic Year Holdings Limited
16:20-16:35
Tea Break
16:35-17:45
Panel 5:TMT Investment
Moderator by:
ChinaEquity Group
Panelists:
Joseph Liang, Chairman and CEO of CICC ALPHA
Li Xiaojun, Partner of IDG Capital
Zhou Kui, Partner of Sequoia China
CBC Capital
Northern Light Venture Capital (NLVC)
Co-Stone Capital
Panel 6: Cultural Industry Investment
Moderator by:
Ji Lianqiang, CEO of Beijing Cultural Center Fund
Panelists:
Zhou Maofei, Director General of The State-owned Cultural Assets Supervision and Administration Office of the People's Government of Beijing Municipality (SOCASAO)
Hugo Xiong, Founding General Partner of IDG Capital
Fortune Capital,
Cai Huaijun, Chairman of Mango Cultural Creativity Investment Fund
17:45
Ending
18:00-20:00
2016 China PE/VC Award Ceremony (Invite Only)
For more information, please contact:
Jenny Chen
Tel:+8615801363816
Email:kemeng.chen@chinacape.org;
---
Jenny Chen Danni Deng
Tel: +86-10-88087202 +86-010-66015942
Email:kmchen@bpea.net.cn dnd@bpea.net.cn
Fax:8610-88086229
Address:13F, Huayi Holdings Mansion, No.11 Caihefang Road, Haidian District, Beijing

China Association of Private Equity
Beijing Municipal Bureau of Financial Work
The People's Government of Haidian District,
Beijing Municipal
Beijing Private Equity Association (BPEA)
EMPEA
KOREA TRADE-INVESTMENT PROMOTION AGENCY (KOTRA)
Invest Europe – The Voice of Private Equity
China Venture Capital and Private Equity Association (CVCA)
Limited Partner Association of China (LPACN)
Hong Kong Venture Capital and Private Equity Association (HKVCA)
Taiwan M&A and Private Equity Council (MAPECT)
Shanghai Private Equity Association (SHPEA)
Limited Partner Association of China (LPACN)
Hong Kong Venture Capital and Private Equity Association (HKVCA)
Taiwan M&A and Private Equity Council (MAPECT)
Shanghai Private Equity Association (SHPEA)
PE Association of Shanghai (PEAS)
Suzhou Association of Private Equity (SZAPE)
Hunan Private Equity Association (HNPEA)
Yunan Private Equity Association (YPEA)
Equity and Venture Capital Association of Liaoning Province (LNVCPEA)
China Private Equity Association (CPEA)
Venture Capital Association of Beijing (VCAB)
Beijing Venture Capital and Innovative Service Alliance (BVCISA)
Zhongguancun Venture Capital and Private Equity Association (ZVCPE)
China Beijing Equity Exchange (CBEX)
Beijing Investment and Financing Chamber of commerce
China Enterprise Association (CEA)
Zhongguancun M&A Development Promotion Association
金融危机下的中国PE
2010 Global PE Beijing Forum
2011发展论坛
4th Global PE Beijing Forum
5th Global PE Beijing Forum
改革 创新 机遇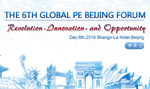 创新 改革 实体经济